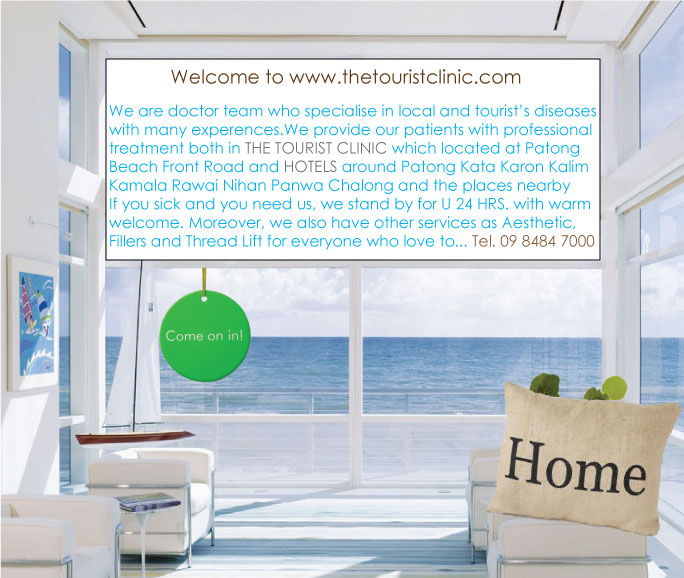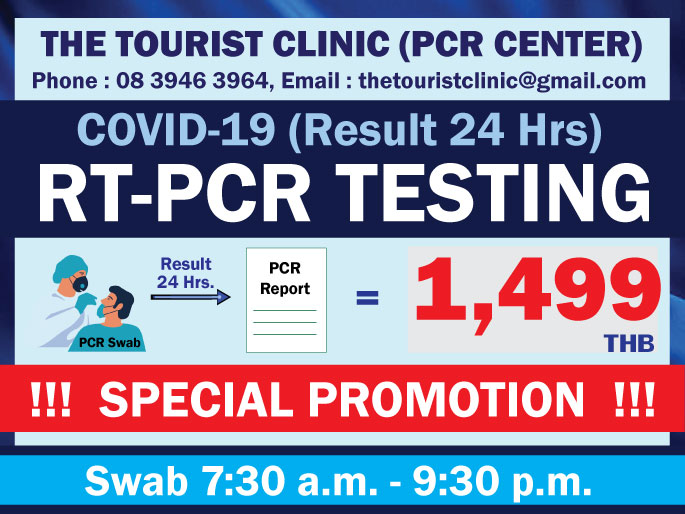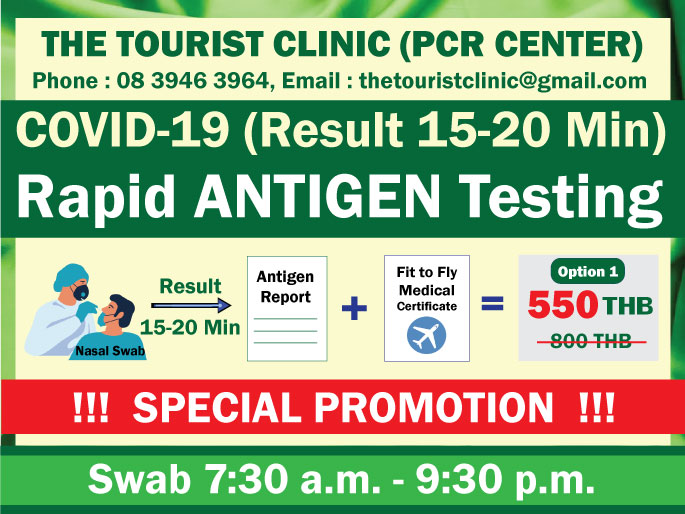 THE TOURIST CLINIC is the first and only private medical center for the tourist patients with a strong focus on the tourist's diseases in Phuket which is located on Patong Beach. We specialize in the medical treating of tourist's diseases more than twenty years and gave the treatment to the variety patients from all over the world more than 100,000 patients since our clinic is opened therefore we understand the tourist patient and reach their needs. Moreover, every patient is professionally treated by THE TOURIST CLINIC with a proven effectiveness of treatment outcomes. (see PATIENT TESTIMONIAL)
At THE TOURIST CLINIC, we offer the best medical care to the patients because we want to ensure that they get better faster and go back to enjoy their happiness traveling soon. Besides that we also provide DOCTOR VISIT HOTEL SEVICE (DOCTOR ON CALL PHUKET) to the patient who want to stay at their hotel. (more information at www.doctorvisithotel.com )
THE TOURIST CLINIC is a leading tourist health providing a wide range of service such as Vomiting, Diarrhea, Intravenous Fluid, Ear Pain, Ear Washing, Allergy, Pediatrics, Vaccines, Broken Condom, Unsafe Sex, HIV, STD, STI, Blood Tests, Medical Laboratory, Stitch Wound, Minor Operation, Fillers, Thread Lift, OB - GYN, Ultrasound, Pregnancy Care, Pervagina Exam, PAP Smear, Labiaplasty, Lose Weight, Quit Smoking, Quit Alcohol, Health Check up, Visa - Work permit, Diving Certificate, AIDS Care, Sick, Injuries, AND MORE !
If you are experiencing symptoms of illness that may require treatment you can visit THE TOURIST CLINIC (see MAP) at office hour 9.00 am -Midnight or make an appointment to see doctor by call 076 297000 or 09 8484 7000 or 08 3946 3964
On the other hands, If you want to stay hotel and need doctor to visit you please call 09 6249 6416 (WhatsApp +669 6249 6416) to make an appointment. DOCTOR VISIT HOTEL is a medical care with DOCTOR ON CALL service every day with has service area covering the whole Phuket and focus on a particular area of Patong Beach, Kata Beach, Karon Beach, Kalim Beach, Kamala Beach, Surin Beach, Nai thon beach, Nai harn Beach, Rawin Beach, Chalong Bay, Chalong, Makham bay, Panwa Beach.
Then as we mention above, If you are the tourist who sick with the tourist's disease and you are looking for clinic, we believe that THE TOURIST CLINIC is your answer because we are the number one of the tourist health center in Phuket.So next time if you sick, think of THE TOURIST CLINIC. Warm welcome is waiting for you.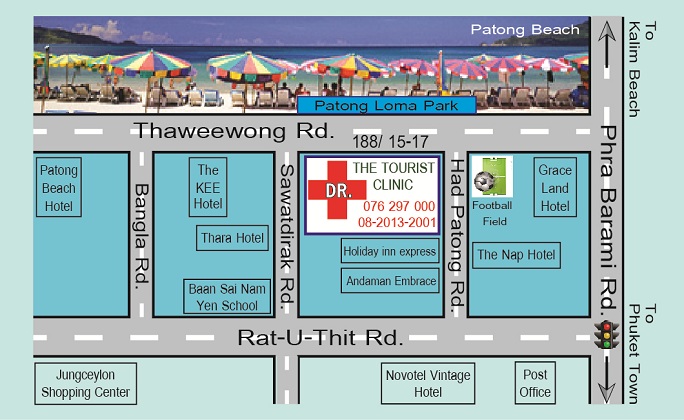 THE TOURIST CLINIC MAP
THE TOURIST CLINIC is located on Patong Beach at the convenient location, a beautiful design and simply searching with standard quality and reasonable price. We are promptly to service for both local and the tourist patients.
For your convenience reservation is applied Tel 076 297000, 09 8484 7000 or 08 3946 3964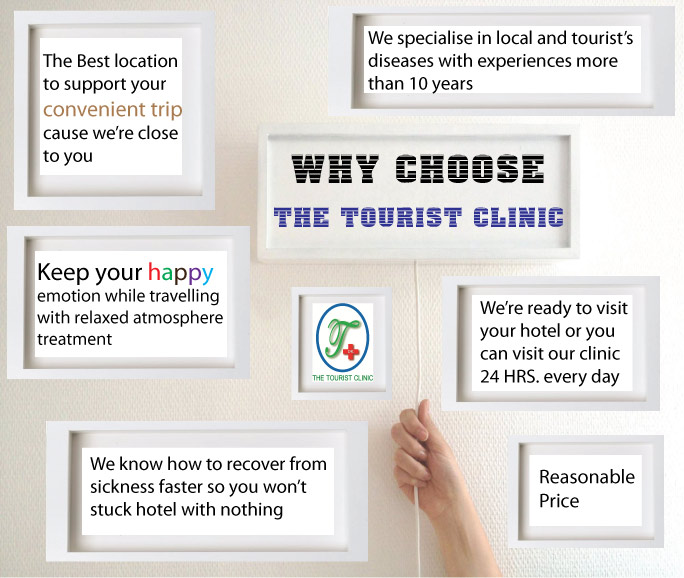 Keyword (Tag) : Doctor Patong, Doctor in Patong, Clinic Patong, Clinic in Patong, Hospital Patong, Doctor Phuket, Doctor in Phuket, Hospital in Patong, Find a Clinic, Find Clinic, Medical Clinic, Medical Clinic in Patong, Doctor 24 hrs, Doctor 24 hours, Clinic for Tourist, Tourist clinic, The Tourist Clinic, Dr, Dr Clinic, Find Doctor, Find a Doctor, Fillers, Breast Filler, Doctor on Call, Doctor on Call Patong, Doctor Kata, Doctor Karon, Good Doctor, Best Doctor, Good Clinic, Best Clinic, Good Doctor in patong, Doctor in Kata, Doctor in Kalim, Clinic Kata, Clinic in Kata, Hospital Kata, Dr Kata, Hospital in Kata, Find a Clinic Kata, Find Clinic Kata, Medical Clinic Kata, Medical Clinic in Kata, Doctor on call Kata, Doctor Karon, Doctor in Kamala, Clinic Karon, Clinic in Karon, Hospital Karon, Dr Karon, Hospital in Karon, Find a Clinic Karon, Find Clinic Karon, Medical Clinic Karon, Medical Clinic in Karon, Doctor on call Karon, Diarrhea, Vomit, Filler, Thread Lift Patong, Breast Filler, VD - STD, Hotel Call, OB - GYN, Aesthetic Center Patong, Plastic Surgery Patong, Aesthetic Center Phuket, Plastic Surgery Phuket, Aesthetic Clinic Patong, Aesthetic Cosmetic Clinic Patong, Aesthetic Clinic Phuket, Covid-19 Test, Covid-19 Testing, PCR Test, RT-PCR Test, Rapid Antigen Test, Fit to fly medical certificate, Fit for Travel medical certificate, PCR Patong, PCR Test Patong, PCR Test Phuket, Covid Test Phuket, Drive Thru Test, Covid-19 Drive Thru Testing, Covid-19 Drive-Thru Testing Patong, Covid 19 Drive Thru Test Patong, Drive Thru Test Phuket
Symptoms (Tag) : Diarrhea Patong, Vomit Patong, HIV Test Patong, Unprotected Sex Patong, STI Patong, HIV Patong, Fever Patong, Headahe Patong, Allergy Patong, Dog Bite Patong, Sex Patong, Animal Bite Patong, Sunburns Patong, Ultrasound Patong, Earache Patong, Ear Wash Patong, Diarrhea Phuket, Vomit Phuket, HIV Test Phuket, Unprotected Sex Phuket, STI Phuket, HIV Phuket, Fever Phuket, Headahe Phuket, Allergy Phuket, Dog Bite Phuket, Sex Phuket, Animal Bite Phuket, Sunburns Phuket, Ultrasound Phuket, Earache Phuket, Ear Wash Phuket, HIV Combo, STD Test, STDs Test, STD Testing, STI Test, STI Testing, HIV Test, HIV Testing
Tag : RT-PCR
pcr phuket, pcr test phuket, pcr testing phuket, phuket pcr test, pcr phuket center, pcr swab center phuket, pcr patong, pcr test patong, pcr testing patong, patong pcr test, pcr patong center, pcr swab center patong, pcr karon, pcr test karon, pcr testing karon, karon pcr test, pcr karon center, pcr swab center karon, pcr kata, pcr test kata, pcr testing kata, kata pcr test, pcr kata center, pcr swab center kata, pcr chalong, pcr test chalong, pcr testing chalong, chalong pcr test, pcr chalong center, pcr swab center chalong, pcr nai harn, pcr test nai harn, pcr testing nai harn, nai harn pcr test, pcr nai harn center, pcr swab center nai harn, pcr rawai, pcr test rawai, pcr testing rawai, rawai pcr test, pcr rawai center, pcr swab center rawai, pcr kamala, pcr test kamala, pcr testing kamala, kamala pcr test, pcr kamala center, pcr swab center kamala, pcr surin, pcr test surin, pcr testing surin, surin pcr test, pcr surin center, pcr swab center surin, pcr bangtao, pcr test bangtao, pcr testing bangtao, bangtao pcr test, pcr bangtao center, pcr swab center bangtao, pcr nai thon, pcr test nai thon, pcr testing nai thon, nai thon pcr test, pcr nai thon center, pcr swab center nai thon, pcr nai yang, pcr test nai yang, pcr testing nai yang, nai yang pcr test, pcr nai yang center, pcr swab center nai yang, pcr phuket airport, pcr test phuket airport, pcr testing phuket airport, phuket airport pcr test, pcr phuket airport center, pcr swab center Phuket airport, pcr maikhao, pcr test maikhao, pcr testing maikhao, maikhao pcr test, pcr maikhao center, pcr swab center maikhao, pcr ao po, pcr test ao po, pcr testing ao po,ao po pcr test, pcr ao po center, pcr swab center ao po, pcr cape yamu, pcr test cape yamu, pcr testingcape yamu,cape yamu pcr test, pcr cape yamu center, pcr swab center cape yamu, pcr siray bay, pcr testsiray bay, pcr testingsiray bay, siray bay pcr test, pcr siray bay center, pcr swab center siray bay, pcr ao yon, pcr testao yon, pcr testingao yon, ao yon pcr test, pcr ao yon center, pcr swab center ao yon, pcr ao makham, pcr testao makham, pcr testingao makham, ao makham pcr test, pcr ao makham center, pcr swab center ao makham, pcr panwa, pcr test panwa, pcr testing panwa, panwa pcr test, pcr panwa center, pcr swab center panwa, pcr laguna, pcr test laguna, pcr testing laguna, laguna pcr test, pcr laguna center, pcr swab center laguna, pcr boat lagoon, pcr test boat lagoon, pcr testing boat lagoon, boat lagoon pcr test, pcr boat lagoon center, pcr swab center boat lagoon, pcr kathu, pcr test kathu, pcr testing kathu, kathu pcr test, pcr kathu center, pcr swab center kathu, pcr thalang, pcr test thalang, pcr testing thalang, thalang pcr test, pcr thalang center, pcr swab center thalang, pcr phuket town, pcr test phuket town, pcr testing phuket town, phuket town pcr test, pcr Phuket town center, pcr swab center Phuket town,