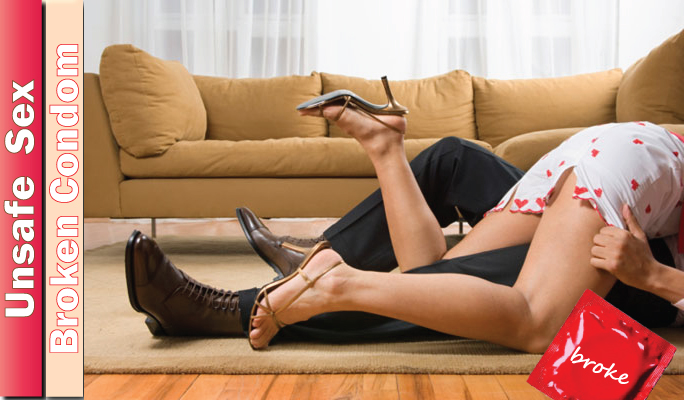 Unsafe sex (vaginal or anal sex without a condom or condom broke)
Unsafe sex is how the great majority of people become infected with HIV and other sexually transmitted infections during sex.
During unsafe sex, HIV moves from a body fluid of an infected person (blood, semen, vaginal fluids, pre-cum or anal mucus) into the body and bloodstream of their sexual partner via the delicate and absorbent mucous skin of the penis, vagina, lining of the rectum and sometimes the mouth and throat. An infection doesn't happen every time unsafe sex takes place, but it could happen any time unsafe sex takes place.
A person can have unsafe sex with an infected person quite a few times and not get infected. But no-one should think they are immune to HIV or that they can carry on taking risks without becoming infected. The more people someone has unsafe sex with, the more chance one of them might have HIV and the greater chance the virus will be passed on.
Someone is much more likely to pass on HIV during the first few months after getting infected when he or she has very high levels of the virus in their body fluids. But during this period this person is unlikely to realise they have HIV.
The male and female condom are good at stopping HIV, especially if used properly - eg, with water-based lubricant (oil-based lube weakens condoms). If a man with HIV ejaculates inside his partner, this raises the risk of infection. Pulling out before ejaculation lowers the risk but this can be hard for men to control so shouldn't be relied on. Also, HIV is found in pre-cum - so even if a man manages to pull out before this happens, he could infect a partner when his pre-cum gets inside his partner.
Millions of men and women around the world have got HIV through vaginal sex. Anal sex without a condom (sometimes called 'barebacking') has an even greater HIV risk. This is because the lining of the rectum is not as tough as that of the vagina, so it is more likely to bleed during sex. This gives HIV in infected semen an easier way into a partner's body.

Post Exposure Prophylaxis (or PEP)
PEP is the only thing that can stop a person becoming infected after HIV has entered their body.
Condoms are the best way of stopping HIV: easy to find, have no side effects, only need to be used during sex, and don't require medical help.
However there's a thing called PEP which can stop a person becoming infected after HIV has entered their body:
What is PEP?
PEP is a month long course of HIV drugs that someone takes very soon after sex which had a risk of HIV transmission.
The drugs are the same ones taken by people with HIV, and for PEP to work they must be taken for four weeks. The sooner PEP is started, the more likely it is to work; within 24 hours is best, but no later than 72 hours (three days). After 72 hours PEP is unlikely to work.
PEP is not a 'morning after' pill to stop HIV as it is not taken just once but must be taken every day for 28 days. If someone stops taking it before 28 days there is a possibility that it will not have worked.
Taking PEP
For PEP to have the best chance of working it must be taken exactly as instructed by a doctor and for 28 days. Skipping doses or not taking the pills for the full month makes it likely that PEP will not work.
If a dose is missed take the next dose as soon as you remember – don't take double the dose.
It is common for people taking PEP to get side effects. These will stop once the course of drugs has been completed but for some people they can make sticking with PEP difficult. Headaches, tiredness, feeling sick and diarrhoea are common side effects.
If you are finding the treatment difficult, speak to the clinic that gave it to you; they can give you medication to help with side effects. Because of side effects some people need to take time off work or study while they are on PEP. Also, as recreational drugs can have dangerous interactions with HIV medication, it's advisable to not use them while taking PEP.
To be sure that no infection has taken place, three months after the course of PEP drugs has been completed an HIV test is carried out. If you decide not to take PEP, an HIV test is recommended anyway, along with a check up for sexually transmitted infections.
When someone is taking PEP they will be advised not to have any further unprotected sex during the 28 days of treatment as this will make it more likely that PEP does not work.

PEP is not guaranteed to always work but has a high success rate. PEP is an emergency measure to be used as a last resort, eg, if a condom breaks or you have a 'slip up' from your usual safer sex routine. PEP is a combination of powerful drugs and can be hard to get hold of, so it is no substitute for condoms, but it's important to know about in case one day you or someone you've had sex with needs it.
Where can I seek for medical care if I have unsafe sex?
The Tourist Clinic is situated on Patong Beach which is one of the most beautiful tropical holiday beaches in the world and also being Phuket Travel Center. The reason is to help travellers promptly with their health problem.
Unsafe Sex and Broken Condom are cured necessary with a rapid proper treatment. The Tourist Clinic is a one-stop service center for STD - STI. There are full course of this treatment such as quality medication and laboratory. Our doctors have highly experienced in this field with a proven effectiveness of treatment outcomes. Therefore if you are at risk, visiting us as soon as possible is the best way.
You can find The Tourist Clinic easily because our location is on Patong Beach Front Road,1 minute by walking to Patong Beach and The Clinic is well recognized by powerful bright blue color and well design. Our working hour from 7:30 a.m. to 9 p.m. every day.
Finally, we would recommend you to make an appointment with our doctor before you visit us since our doctors are appointed from many patients every day. Booking an appointment, please call : 09 8484 7000
or E-mail : thetouristclinic@gmail.com
or WhatsApp : +669 8484 7000
or Line : +669 8484 7000
Think of The tourist Clinic when you have STD - STI problem or unsafe sex.

What People Searched For To Land Here ?
Condom broke what do i do
What to Do After Unprotected Sex
What to do if a condom breaks
Condom broke/ HIV risk
Condom use gone wrong: Broken condoms
The condom broke. What do we do?
Where can I go for STI testing, pregnancy tests or pap smears?
What Should You Do if the Condom Broke?
Hiv Risk Broken Condom
Risk Of Hiv Transmission From Broken Condom
Broken Condom Risk Of Getting AIDS
Can HIV Be Transmitted Through Broken Condom
condom broke,how great is the risk?
Help! The Condom Broke During Sex
What's the best thing to do if the condom breaks during sex?
Dangers of Unprotected Sex
Need information about STDs? Want to get tested?
The Tourist Clinic can help!
Keyword Tag : Condom Broke in Patong Broken Condom in Patong Unsafe Sex in Patong
Unprotected Sex in Patong Condom Broke in Phuket Broken Condom in Phuket
Unsafe Sex in Phuket PEP Clinic Patong PEP Doctor Patong PEP Center Patong
PEP Clinic Phuket PEP Doctor Phuket PEP Center Phuket HIV infection
worried about HIV high risk HIV Unsafe Sex Condom Broke Broken Condom